Cascade Festival of African Films
2016 festival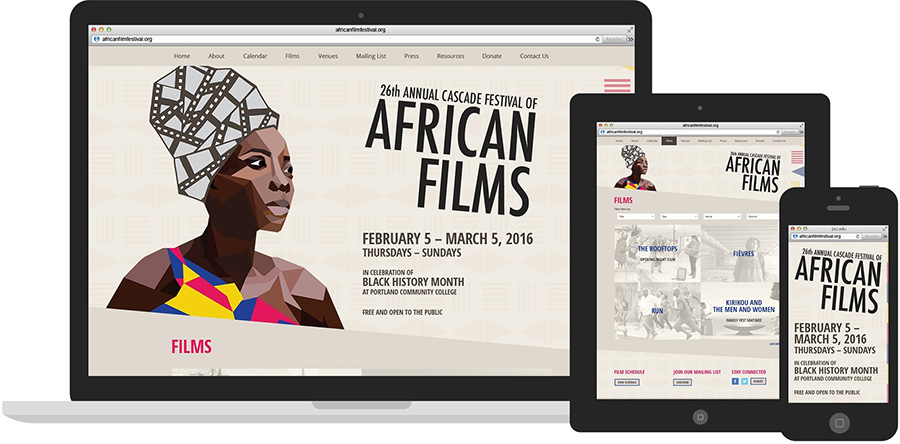 Category: Web Design, Front-End Development
Created Using: Photoshop, HTML, CSS (Sass), WordPress
Date: 2015
Website: africanfilmfestival.org
Thehe Cascade Festival of African Films (CFAF) is an annual film festival in Portland, Oregon. It is held and sponsored by Portland Community College. According to the festival's website:
The films celebrate Africa's achievements, expose Africa's failures, and reveal the possibilities for change and a hopeful, more prosperous future. They show us pictures of Africa through the eyes of Africans, rather than a vision of Africa that is packaged primarily for western viewers. The films represent African concerns that are political, historical, and social.
Each year, the students in a Portland Community College graphic design class hold a poster design competition. Members of the CFAF committee judge the student's posters, and the winning design in chosen for that year's festival. The poster is used on marketing materials, the festival program and on t-shirts. I do the website design and front-end development for each year's festival based on this poster.
I'm not involved in entering any of the website's content in WordPress, or in designing any of the content. My coworker Gabriel Nagmay builds and administers the WordPress theme.
2016 poster design by Aren Moffatt.
Copyright belongs to: Portland Community College, Cascade Festival of African Films
2015 festival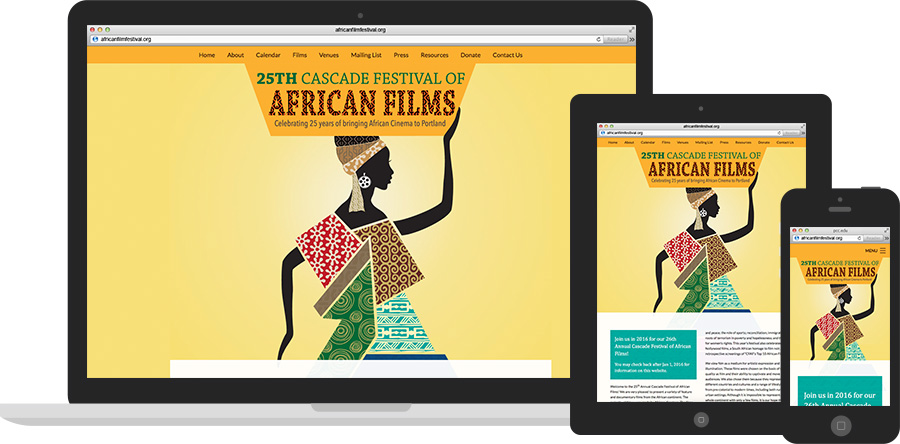 Category: Web Design, Front-End Development
Created Using: Photoshop, HTML, CSS (Sass), WordPress
Date: 2014
Website: 2015.africanfilmfestival.org
2015 poster design by ChouChou Lam.
2014 festival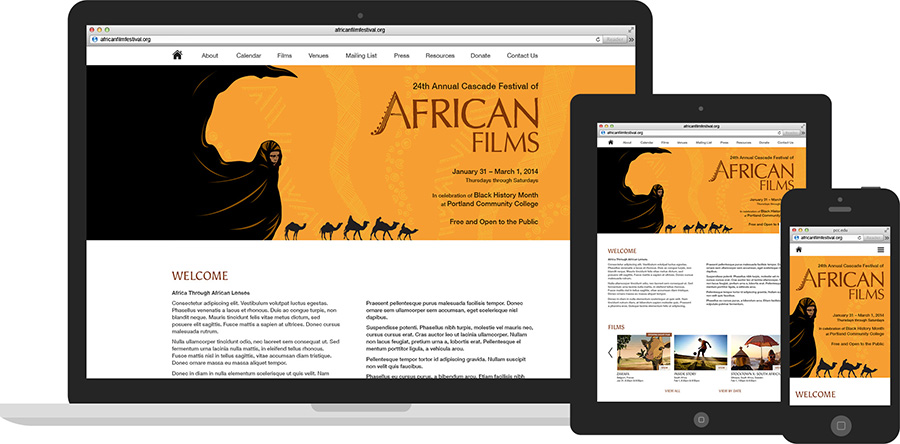 Category: Web Design, Front-End Development
Created Using: Photoshop, HTML, CSS (Sass), WordPress
Date: 2013
Website: 2014.africanfilmfestival.org